CANADIAN LINKS
Search
Carlo Corazzin
Bobby Johnstone
Rick Holden
PlayerShare
SAFE
For Sale
Chaddy End
Quizlets
Danielle
About the LSC
Latic Fanatic
Seniority List
'Clean Songs'
Where are they?
Trivia
Caricatures
City Fun
Travelling Fans
Chairman's Stable
Transfers
Chat Room
Message Board
Mail List
Playing Squad
Results/Reports
Statistics
PlayerShare
WORLD LINKS
Official Site
Keep The Faith
Links
Latest Scores
League 2 Table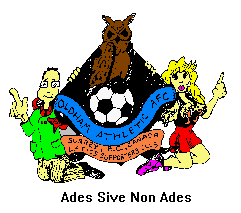 Still independent! Still serving worldwide Latics fans! The LSC was established in 1987 and the website began in 1996. The LSC website is the longest established 'unofficial' web site of Oldham Athletic AFC and is also the longest established message board (forum) of OAFC, official or not. Originally intended to keep Canadian fans abreast of all matters associated with the Latics, the LSC provides a news service and a platform for Athletic fans the world over to express their views on activities at Boundary Park. Learn more about Oldham as a town by visiting our Oldham Links or find out more about the City of Surrey, B.C. here.
Last updated on 19th. Feb - Next meeting on 22nd. Feb at the Guildford Station
Visit the Official Website
Sign up to help PlayerShare. Click this link

LATEST NEWS

Paul Scholes was quick to point out that the 1-1 draw at home to Crewe Alexandra was a fair result. He said, "It was a difficult game, I think Crewe probably deserved a point in the end, a draw was probably a fair result. We got a good goal, obviously a great kick from Dan [Iversen] and good finish from [Callum] Lang. But in the second-half it was coming, we made a lot of mistakes really which was disappointing, we gave a lot of fouls away and the ball kept coming into the box and we didn't really stop that as we wanted to and we felt the goal was coming and they deserved it. It's always frustrating when you concede a goal. When it is is irrelevant really, obviously being so late on there is not much time to get up the other end and score, but in the second-half we never really looked like we were going to score anyway and give Crewe credit they played well, played some good stuff and thoroughly deserved their draw. We struggled to create a bit today I suppose. It's difficult on that pitch. I don't want to make excuses because I know the players are good enough to do better than what they did today, but we're asking them to play football, asking them to create chances and score goals on that pitch it became difficult to really get any kind of play going that we would of hoped for. I think a draw was probably a fair result in the end. We can't rest too much on this result today, ok it's disappointing they scored late on but we've not lost a game, it's not a complete disaster. There's so many games thick and fast you can't afford to think about what's happened. He's a little bit stiff Callum, we'll have to see how he is, Tuesday might be a bit of a push. He's a young lad and played a lot of football. He's the lad that does the most running every single game as you can probably tell. So we'll have a look at him Monday but I think he'll be doubtful for Tuesday. I've been impressed with Jonathan Benteke in training. I've said to all the lads if you're training well you'll get a chance on a Saturday afternoon or Tuesday night and I've been impressed with him. He didn't do a lot in the game today but it's a start for him."
---
Cameron Dummigan has signed a long-term deal with reigning League of Ireland champions Dundalk.The 22-year-old full back has been capped for Northern Ireland at U21 level and is delighted to sign for the Irish club. He made 85 appearances for the Latics and won the club's Young Player of the Year in 2017. Dummigan said, "I am delighted to be here. Once I heard that Dundalk were interested I wanted to get it done. I am pleased to get the deal over the line. I have known about the club for the past few years and I am keen to be part of the group. It helps knowing a few players in the group. I played with Patrick McEleney and Michael Duffy before. It's always good. I will get to know everyone quickly and I can't wait to get started. I am buzzing to be here. I am looking forward to being here and getting into the squad. I want to keep last year's form going and I want to add to that. I want to be successful with the club."
---
Trust Oldham, the official fans trust of OAFC, have met with Brassbank Limited, partly owned by Simon Blitz and Danny Gazel, two former owners of the Latics. The outcome is that they intend to raise enough money to buy the stadium at Boundary Park as they have first refusal, as agreed under the Assets of Community Value (ACV) that was secured on the stadium in 2017. No details have yet been released as to the finances involved or as to how the money will be raised.
---
Web design by Web Services GB
Contact Us:
©1996-2019 LSC, Canada