Supporters Trivia and Anecdotes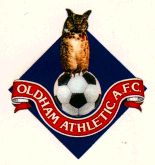 Anecdotes
Who?
What?
When?
Where?
Why?

Win the latest LSC programme by entering our trivia competition
---
Latics Trivia
The sender of the first correct answer to each trivia question will receive the most recent LSC programme. Remember to send your name and address.
What was the name of the Oldham Rugby hooker who fractured his neck in an 'A' team game in the 60's. His appeal united both rugby and football players/fans alike in Oldham?
Who was the first English player to qualify for the 1986 World Cup Finals?
Who was the player who came to Boundary Park as part of a double transfer with Bert Lister?
Congratulations to Mark Caulfield from Ottawa, Canada who correctly answered that the first ever official English football game played on a Sunday was the Cambridge U. v Oldham game on 3rd. Jan. 74. The score was 2-2 and Lochhead and Simmons (og) were the scorers for Athletic.
---
Latics Anecdotes
The links below lead to memories, stories and anecdotes submitted by past players and fans. They are listed chronologically, newest first.

e-mail your stories