Where Are They Now? (A-J)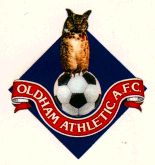 Player Profile
Name
Played from.............to...............
Claim to fame
Most memorable moment/incident
Where are they now?
---
Everyone has favourite players! We are looking for statistics on any past Oldham players, from any era. The categories are self explanatory. E-mail your nominations and we will try to build a complete dossier of past players. It is always interesting to find out who is selling cars, double-glazing etc. You never know when you might need some! We need information from past players who have now retired from playing. Some players (and ex-managers of course) we would love to hear about are included in the first Latics song on the 'Clean Latics Song Sheet'. In particular we would like to hear about/from the following: John Mc.Cue, John Bollands, Brian Jarvis, Sandy Wann, John Bazley, Brian Birch, George Greenhall, Bob Rackley and George Kinnell. If you know the whereabouts of any of the aforementioned or any other Latics players from the same era please let us know.
---

Earl Barrett (1987-91) joined Athletic from Manchester City for a bargain £35,000 and appeared in the Littlewoods Cup Final and the FA Cup Semi-Final as part of Joe Royle's great team. He also played for the England under-21 team and made his debut for the full England team in 1991 in Auckland. he joined Aston Villa in a £1.7m deal and helped them achieve Division One runners up and to win the League Cup. He rejoined Royle at Everton and retired in 1999 after a serious knee injury. Earl said, "I retired when I was at Hillsborough. I then went back to school, completed a HNC in Sports Science, and really enjoyed it. I later moved on to University, and graduated last year with a 2:1 in Sports Science from Manchester Metropolitan. Now I work for the Youth Sport Trust as a motivational speaker working with disaffected children. It's really fulfilling, and I enjoy mixing with the kids."
Ken Branagan (1960-66) arrived at Boundary Park from Manchester City in a double deal with Bert Lister. He was a classy full back and brought some much needed First Division experience to the team. His strength was in his clever judgement. he had a powerful shot and was renown for breaking the net with one of his penalty kicks. He appeared in 177 league games and scored five goals. Ken died in August 2008 at the age of 78 after a long battle with Alzheimers disease.
Martin Buchan (1983-84) arrived at Athletic with a great pedigree gained with Manchester United and Scotland. He was forced to retire due to a thigh injury. In 1985, he was appointed manager of Burnley, who had just been relegated to the Fourth Division for the first time in their history but he lasted less than four months. Buchan currently works for the Professional Footballers' Association in Manchester.
Johnny Burdess (1962-66) was a short but gifted inside-forward and was an accurate passer of the ball. He played in the local Oldham leagues after retiring as a professional and still lives locally, earning his living as a joiner

Frankie Bunn (1987-90) was best remembered for scoring six goals against Scarborough, still a record, at the start of Athletics famous Littlewoods Cup trip to Wembley. When he signed from Hull City he had an immediate impact and helped turn the Latics into a goalscoring machine. Bunn's career was ended prematurely as he lost a 19-month battle to overcome a serious knee injury. He joined Wigan Athletic's community programme, became an Academy coach at Manchester City in 1998 and then stepped up to become reserve-team manager an then caretaker first team coach at Coventry City. In 2008, Bunn was named joint caretaker manager at Oldham along with John Harbin, following the dismissal of Iain Dowie. In 2011, he was appointed as Steve Eyre's assistant manager at Rochdale before he joined Huddersfield Town as a professional development coach working with the academy under-18 team. Bunn was appointed manager of the Latics 2018 but was sacked after six months in the job.

Les Chapman (1966-69 & 1974-79) was a speedy winger and after his first spell he went to Huddersfield Town in a deal which brought David Shaw to Latics. Les returned in 1974 as a hardworking but creative midfielder. He was renowned for his powerful shot and went into partnership with the flamboyant Alan Groves during the mid seventies until the tragic death of the brilliant Groves. Since the end of the seventies Les has played for and managed Preston and for the last several seasons has had various roles at Manchester City, currently as kit manager. He still looks incredibly young and fit and he is an avid antique collector. He still lives locally and his daughter Tiffany stars in Brookside.

Kenny Chaytor (1954-60) Known as the Durham Wonderboy, Chaytor made his debut at the age of 16 against Gateshead. George Hardwick was the player-manager and said that Kenny was the only young player he'd had that didn't have to be taught anything. He would surely go on to play for England. His hat trick against Mansfield in 1955 made him the youngest player ever to score a league hat trick in the history of the game. His career didn't work out as planned and after scoring 20 times in 77 league appearances he moved on to Ashton United then Witton Albion before returning to the north east. He married an Oldham lass, had three children and continued life as a toolmaker, temporarily emigrating to Canada and is now happily retired in Trimdon, Co. Durham. He was at Boundary Park for the FA Cup tie with Huddersfield in 2008, his first visit to the ground for over thirty years.

Kenny Clements (1979-85) was Athletic's record signing when he came from Manchester City and he soon became a favourite and made a great centre back pairing with Paul Futcher. Strong in the air, Kenny had some clever moves. He left Oldham to rejoin Manchester City where he stayed for 5 years. He then joined Bury before accepting the player/managers job at Limerick but it didn't work out and he was soon back in England playing for Shrewsbury. He concluded his 500+ match playing career at Curzon Ashton. Kenny became a driving instructor in Diggle and has recently rekindled his interest in painting. Clements still lives locally and is hoping to further his art career by taking art commissions. He aslo works as a chauffeur for Manchester property tycoon Aneel Mussarat at MCR Property Ltd in Manchester.
John Colquhoun (1961-65 & 1968-70) was a tricky little player who was an ever present in the 1962-63 promotion winning side. He died in 1996.

Bill Cranston (1970-73) Joined the Latics and was made captain of the side which won promotion from Division Four in his first season. After retiring from football he became a maintenance officer at Burnley police station, a position from which he retired on 22 August 2008. Bill passed away in 2022 at the age of 79.
Billy Dearden (1963-66) the 5'-11" tall winger only scored two goals for Athletic but he went on to score 101 goals in all four divisions for other clubs. He also played local cricket for Crompton CC. Billy coached at Chesterfield, Mansfield Town, and Port Vale, before he was appointed Mansfield manager in 1999. He then became manager of Notts County but was sacked in 2004. He returned to manage Mansfield from 2006-08.

Willie Donachie (1984-94) made over 400 appearances and won the Football League Cup with Manchester City. He won 35 Scottish caps and 3 under 23 caps and also played for Portland Timbers (USA), Norwich City and Burnley. Willie was an accomplished midfielder and set up many goals. He was appointed the Latic's player-coach in 1985 and will be best remembered as Joe Royle's right hand man in the clubs most successful seasons. He moved to Ipswich with Royle but left and went to manage at Millwall. He is currently managing abroad in the Caribbean.
Harry Dowd (1970-74) will be remembered as the goalkeeper who loved to dribble outside the box. He was a great favourite of the Latics fans and was first-choice until he lost his place to Chris Ogden in the championship year of 1974. He once scored a goal for Manchester City. Harry went on to work for John Willie Lees' brewery but passed away in 2015.

Steve Edwards (1974-83) gave stalwart service to the club. He broke through to the first team in the 1978-79 season and made 212 appearances mostly at full back having successfully made the transition from his earlier midfield role. Steve is now Company Director at New Earth Water Services.
David Fairclough (1985-86) made his name at Liverpool in the late Seventies, when he earned the nickname 'Supersub', after scoring many vital goals wearing the number 12 shirt. His season at Oldham was spent mainly in the reserves, for whom he scored 16 goals. He also helped the reserves to win the Central League Second Division title. He now lives in Formby on Merseyside and works as a partner in an independent investment company which advises players at all levels of the game on the best way of taking care of the money they earn. Fairclough also works for Meridian TV and covers games on ITV2.

Jimmy Frizzell (1960-82) was a great favourite of the Latics supporters. When he was sacked, after winning promotion, he had the distinction of being the second longest serving manager in the football league. He went on to be chief scout for Manchester City but unfortunately passed away, aged 79, in 2016.

Jimmy Fryatt (1970-71) was a fearless centre-forward and was best remembered as the player to score the fastest goal in a league game when it was recorded as four seconds from the kick-off in a match for Bradford against Tranmere in 1964. Jimmy played for Philadelphia in the NASL and was assistant manager at Las Vegas Quicksilver. He also worked a total of 13 years in casinos before taking a position on a golf course in Vegas as a mechanic, looking after the mowers and other machinery. Big Jim passed away, aged 79, in Las Vegas in 2020.

Paul Futcher (1980-83) will be remembered as one of the footballing twins who played for Athletic. He was a short-term acquisiton for the Latics but he averaged a goal every other game. The tall, blond striker cost Luton a record fee of £ 100,000 when he was signed as a seventeen year old from Chester. Paul was known as one of the best back four players in Division Two and was a creative defender with the ability to make attacking options available. Paul gave up the playing side at Southport in 1999 at the age of 42. He resigned as manager of Stalybridge Celtic and went to manage fellow Nationwide Conference North team Ashton United. Unfortunately, Paul Died of cancer, aged 60, in 2016.
Ron Futcher (1985-87) was a tall striker whose unorthodox style disguised the clever skill he possessed. A master of the 'one touch' he averaged a goal every two games for Athletic. His career took him to America and Holland and the journeyman travelled extensively from 1973-92 when he eventually retired from the game at Boston United.
John Gannon (1996-97) signed for the Latics after seven years at Sheffield United but was always dogged by bad luck. He had his own soccer school in Sheffield after retiring from playing in 1997.

Colin Garwood (1971-74) made 92 appearances for Athletic and scored 36 goals. Garwood turned into a prolific finisher and scored some important match winning goals in the team which won the Third Division Championship in 1974. After leaving Oldham, Colin moved to Huddersfield, then Colchester where he won promotion to Division Three in 1977. He then joined Portsmouth, where he again experienced promotion in 1980, as well as being the country's leading goalscorer. He left Pompey for Aldershot where he stayed for a couple of seasons, before moving north to join Boston United where he scored 18 goals in as many games, before breaking his ankle and ripping his achilies tendon. This ended his playing career. Colin now works for a transport company in Wisbech and is a Director, and the Press Officer, of Wisbech Town FC of the Jewson Eastern League. His son Mark also played for Wisbech in the 1990's, where else but up-front!

Eric Gemmell (1947-54) was 30 when he entered the record books by scoring seven goals (six in succession) against Chester on a snow covered Boundary Park in 1952 in a match which Athletic won 11-2. He remained the clubs highest aggregate goalscorer until Roger Palmer took the title away from him. He presented Palmer with an inscribed statuette in a game in April 1989 to mark the achievement. He moved on to Crewe, Rochdale, Buxton and finally Nantile Vale in Wales, where he was player/manager before he retired in 1960. He was also a cricket professional with Levenshulme and is now in his 80's but not in the best of health.
Mark Grew (1983) signed on loan during Joe Royle's early years and became known as the 'lone ranger'. He only made five appearances in goal for Athletic and is now youth team coach at Port Vale.

Alan Groves (1974-77) was a firm favourite with the Latics fans. He was remembered mainly for his showmanship. Although he had signed for Blackpool, it came as a great shock to all when he died prematurely in 1978 at the age of 29.

Ray Haddington (1947-50) formed a perfect front partnership with the legendary Eric Gemmell. He was remembered for his spectacular goals from dead-ball situations and seemingly impossible angles. Ray recently passed away in Australia.

Gunnar Halle (1991-96) joined Latics during the run in to the 2nd. division championship in the 1990/1991 season and was one of the earliest Norwegian imports into the English game. A right sided player, Gunnar was Latics most capped player winning 24 of his 63 caps whilst at Boundary Park. After leaving Latics, Gunnar returned to Premiership football with Leeds United and later Bradford. After returning to Norway to finish his career with Lillestrom where it all began, Gunnar became the youth team coach and is set to become assistant to the first team manager for the 2004-05 season.

Vic Halom (1976-80) [King of all Geordies] won an FA Cup winners medal with Sunderland in 1973 and was a burly striker who caused trouble to most opposing defences. Halom completed his century of league goals in his first season at Boundary Park. Vic now works for AMEC Utilities, a move from the football field to the computer field!

John Hardie (1960-61) at 6'-1" and 12 stone Hardie was a tall keeper who was in direct competition with Jimmy Rollo in his one season at Oldham. They regularly swapped positions in the first team but when John left to join Chester he had two seasons in which he made 84 appearances. He was then transferred to Bradford Park Avenue where he made 279 appearances before moving to Crystal Palace for £5,000 in 1970. He spent two seasons at Selhurst Park although he never made the first team. When he retired from the game he returned home to Edinburgh in 1976 to continue his trade as a self-employed joiner. He has since retired.

George Hardwick (1950-56) signed for Athletic for £15,000 after a distinguished career where he had captained every team he played for. He made 13 full caps for England and represented Great Britain v Rest of Europe in 1947. He was player manager when Athletic won the Third Division North Championship in 1952-53. A legend at Middlesbrough, he had a statue erected in his honour at the Riverside Stadium. Full back Hardwick made 190 appearances for the Latics scoring 14 goals in the process. George sadly passed away in April 2004.
Wayne Harrison (1983-85) was snapped up by Liverpool who shelled out £ 250,000 to make him the most expensive teenager at the time. He scored 35 goals for Athletic Reserves and Juniors before he had a chance to prove himself with the first team. It never seemed to work out at Liverpool and Wayne retired through injury in 1991. He tried a stint of management with Accrington Stanley but retired at the end of the 1998-99 season so that he could devote more time on his School of Excellence in Blackpool. Wayne is now working as a drayman for Robinsons Brewery in Stockport.

Paul Heaton (1976-84) joined the Latics on schoolboy forms after having trials at Manchester City. He played mainly in midfield but also appeared at full-back and as a winger. He gave Viv Anderson, the England player, the run around when Athletic entertained Nottingham Forest in the League Cup in 1978. Paul was a tricky player with a good shot and was only 17 when he made his debut at home against Hull City. He made 124 appearances and scored 28 goals. He was dogged by injury and left Oldham to team up with Vic Halom at Rochdale. He moved on to play in Finland and won the Finnish Cup when playing with Rops in Rovaniemi in 1986. He joined FC Talmo in 2001 and was still playing a year later at the age of 41. Paul is now first team coach at FC Tarmo in the 3rd. Division in Kajaani, Finland.

Tony Henry (1983-87) was a versatile player who filled most midfield and defensive roles during his career. He was an FA Cup finalist for Manchester City and also played for Bolton Wanderers and Stoke City. He made 185 appearances for Athletic scoring 25 goals in the process. He is now a player's agent, Norberto Solano of Newcastle being one of his clients.

Keith Hicks (1970-80) was a tough defender who made his debut at the age of 17 and soon established himself as a regular. He went on to be part of the championship winning team in the 1973-74 season and also played for Hereford, Rochdale, and Hyde United. Hicks was player/manager of Mossley but retired with a groin injury after having made 475 senior appearances, scoring 14 goals. Keith is now the community officer and Director of Coaching in Rochdale's Centre of Excellence

David Hodkinson (1961-64) Autobiography for the LSC: I am a former player with the Latics, 60-62 seasons and as such played alongside many of the names you mention on the home page (Jimmy Rollo, Ken Brannigan, John Mccue, John Bazely etc.) My two first team appearances were in the 61 season when I played against Doncaster in November as the youngest player at that time, and Tranmere. I emigrated to Canada in '69 after becoming a teacher and recently retired as a Principal in Durham region, Oshawa, Ontario. I retired from playing about ten years ago and took up reffing and am currently vice president of the Ontario Soccer Referees' Association and President of Durham Region Soccer Association. It's an informative and interesting site...good job!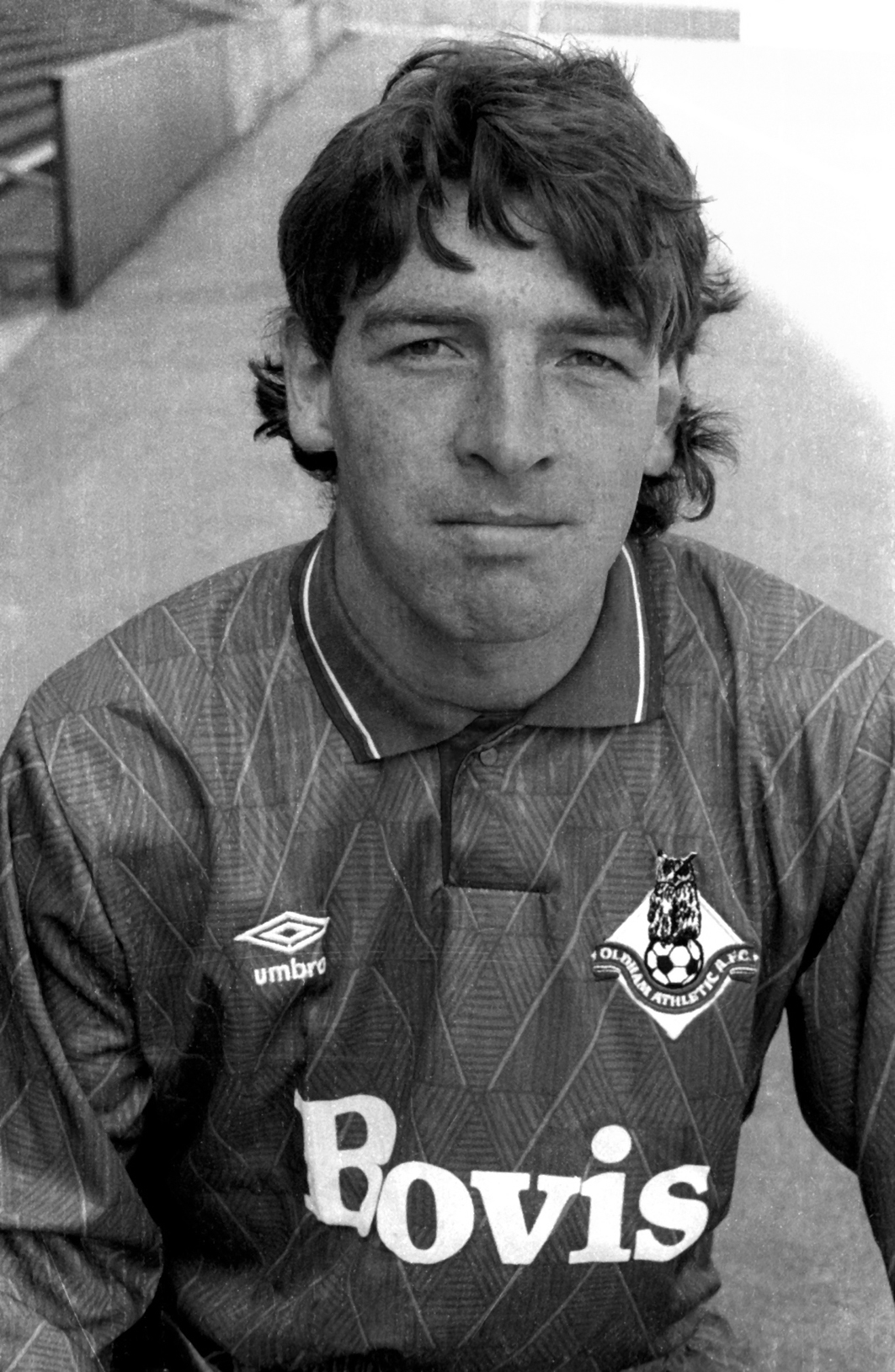 Rick Holden (1989-92 and 93-95) was a member of the Latics most successful team ever which went to Wembley for the first time. A great crosser of the ball (get it in early!) who provided skills, excitement and goals. Holden played one game for Burnley, then spent two seasons at Halifax and two at Watford before his move to Oldham. Tricky Ricky then made a big money move to Manchester City, for whom he made 50 appearances scoring three goals. He gained a degree in 'Human Movement' and became the player/coach/physiotherapist for the Isle of Man International team where he also turned out for the local Peel team. Rick has written several books and is now a partner in his own publishing company Wibble Publishing

David Holt (1974-80) was a popular defender who cost the Latics a record fee of £25,000 (plus Tony Bailey) when he signed from Bury. David made his debut against Sheffield Wednesday in 1974 and made 399 league appearances, 155 of them for Athletic. He usually wore the number 6 shirt but later teamed up as a number 3 alongside Ian Wood. He scored 11 goals in his career. Holt owned a plastics company in Haslingdon and then emigrated to start a new life in New Zealand where began a postal courier business. Unfortunately David had a heart attack and was found dead behind the wheel of his van in October 2003. He was 51.
John Hudson (1982-86) impressed as a full back when the Latics were looking for a replacement for John Ryan in 1984. Injuries however, forced John to retire. He is now working for the PFA.
David Irvine (1976-77) made 18 appearances for Athletic scoring 3 goals after signing from Everton. He was the leading scorer for Everton's reserves but could not command a first team place, although the Toffies paid a sizeable fee for him. He shared the partnership role of Vic Halom at Boundary Park with David Shaw. He coached OPS in Finland before moving to Fort Lauderdale Strikers as the Director of Player Personnel/Assistant Coach in 1988. He also played for Sheffield United, Shamrock Rovers, Tulsa Roughnecks, San Jose Earthquakes, and the Atlanta Chiefs and played alongside such greats as George Best, Gordon Banks and Gerhard Mueller. He is now head coach of Wilmington Hammerheads, a USL Second Division side in USA.

Bobby Johnston (1960-65) was one of the greatest inside-forwards of post-war football. A Scottish international with instinctive ability and a knack for creating goals from nowhere. One of the few players with the distinction of having an era named after him! Bobby was an immaculate penalty taker as his penalty shots invariably went in off the post. Since retirement his skills were for years observed gracing the bowling green at Hollinwood CC. Bobby moved back to his native Edinburgh where he died in 2001 at the age of 71. Bobby was the favourite player, and boyhood hero, of The Chairman. RIP Bobby. You will always be missed.

Walter Joyce (1967-73) gave great service to Athletic both as a player and a coach. He joined Burnley in their First Division days before joining Blackburn and then moving to Boundary Park. He was manager at Rochdale for three years although they were relegated from the Third Division (73-74) with only two league wins out of 46. Walter then went on to coach at Bolton and Preston. Another move took him scouting for Bury until he became recruitment officer for Manchester United. Walter died in 1999, aged 62.
---
Please submit any mistakes or updates as we wish to provide up-to-date information about past players/managers.
---
Where Are They Now? (K-Z)

Submit:

Web design by Web Services GB