Supporters Trivia and Anecdotes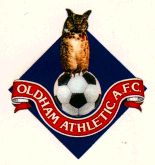 PAUL SHEPHERD PLAYS FOR LATICS!

In the 1996-97 season goalkeeper Paul Shepherd was at Boundary Park as cover for the injured Jon Hallworth. He played in a friendly game and after an impressive show was invited back for a further weeks trial. Paul is a graduate of Johnson Heights Secondary School, Surrey and is well known by many of the Canadian LSC members. He has dual Canadian and British nationality and has played for both Vancouver 86'ers and Dundee United. He also represented Canada in the 'Olympic Qualifying Game' against Australia. After the resignation of Graeme Sharp and Colin Harvey interest dropped. Unfortunately for Paul the same thing happened when he was at Kilmarnock for trials. The LSC wishes Paul every success.

Paul was last known to be playing for the Vancouver 86'ers (now the Whitecaps).
---
Back to Trivia

Submit a story: