Supporters Trivia and Anecdotes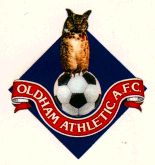 Barry Noble
Oldham
Lancashire
Sat. 26th April 1997

Awoke at 7am and got Nikki up 15mins later, 7:45 after 2 cups of tea and several toast we set off tor the bus, the 08:20 No59 for the short trip to Derker train station. 08:20 was 5mins Late but went quite fast and only look 15mins, another 15min. and a short walk and we got to Piccadilly Station, platform 5 to READING. 09:15, time to get a paper, some chocolate and cans of pop.

We ate our homemade sandwiches and talked, sometimes sharing a can and the headphones to the Walkman, the 3hr journey soon passed and we got off at Reading station and following my 'little map' made our way to the BUTLER INN our first pub on the way to the ground. The next pub, the ALFRED's HEAD, was nice but a bit "iffy" safety wise, so only had the one drink, then a long walk to the ground with no open pubs in between, till we got to the home fans pub on the corner of their end.

We chanced it, but to our relief found it was full of Latics fans so me and Nikki talked freely and we had a good laugh. We went to the club shop to get my home badge but they had sold out so I will have to get one in Oldham! The weather was damp but it did stopped raining, so looking at the open terrace and the 5 pounds for children and 8 pounds for adults compared to 10 pounds sitting in very cramped conditions, I decided to save the money, enjoy the atmosphere and risk the rain.

Our fans where buoyant. The home fans where unusually obnoxious, remembering how great the Norwich fans where, not so long ago in a similar situation. It gladdens the heart to see so many young Laties fans both boys and girls going so far away to watch our team, but it also saddens me to see them suffer as we all do at the present time. The game, you've seen it before, you've read about it before, a disallowed McCathy goal, they score, an Andy Ritchie missed penalty, there you go again. Final whistle! The players come over, me and Nikki clapped them off as we made our way back to the Butler where we where greeted by about 20 Latics fans who didn't stop after the 2nd goal had gone in.

18:30 train to Piccadily changed platforms at the last minute so a mad dash by eveyone from one platform to the other. I got some refreshments, two cans of Guinness and a ham sandwich for Nikki. We wore and showed our colours with pride but when a group of lads got on at Wolverhampton I feared for our safety when they eyed our shirts and sat near us. My fears where unfounded and in fact we shared football talk with them till they got off at Stockport. Some where Man U. fans, Man City and Stockport but they said they didn't (go to many of their respective games, but it was nice to talk to them and I think having a beautiful girl next to me helped.

Piccadilly Station 21:20, phoned Sue to ask her to put some chips in the pan, then it was a run for the tram to Victoria where the train to Rochdale stopping at Oldham Werneth, Mumps, Derker and Shaw was about to set off. Phew!

Again, some nice conversation with the whole carrage it seemed, about the Latics, made us feel special to be at the center of attention for everyone. Our stop at Derker soon arrived and we set off on our last leg for home on a cold, starry but calm night. 22:15 arrived home, glad to be back, but what a day mixed with feelings of having had a good day socially but with the realisation of knowing now for sure that unless a miracle happens then we are doomed to the 2nd Division, Bradford and Grimsby MUST lose their last two games. Are there any cans in the fridge, Sue?

Good Night.
---