Supporters Trivia and Anecdotes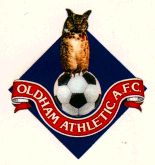 BACK FROM THE GRAVE
After the Oldham Chronicle had revealed that Ryszard Kowenicki had died in the 1990's the LSC received the following communication from a Latics supporter in Poland which makes very interesting reading:
I have had a very busy time lately but now I can be absolutely sure about Richard Kowenicki as I've been talking with him just about 10 days ago. On Saturday 21st. October 2000, there was a Jubilee Match due to a 90 year anniversary of his former club, Widow Lodz. A great number of former Widzew stars have come to Lodz (ie. Boniek, Smolarek, Dziekanowski and many others - some of the greatest Polish players). I'm a fan of their local rival, but my wife is a fan of Widzew so we went there. Besides, my friends, who work for local newspapers, told me that Kowenicki may go to Lodz too, and he did. Due to help from another of my friends I managed to exchange a few words with him.
He said, "I am living in Denmark and am in good health". He was very amused about the news of his death. He said that now he is absolutely sure he would be living many years. Here in Poland we have such a funny superstition that if anyone comes to know about the news of his death from other people he will survive until an old age.
One of local papers has published a photo from that game with all the players whose took part. Kowenicki is there too on the photo (front row - second from the right). So, if you want, let me know and I will try to scan it for you to make you absolutely sure that he is among the living. That's all about it.
Wish you all the best. Cheers,
Bartek (A Polish fan from Widzew)
True enough Richard Kowenicki is still alive and kicking (pun intended) as the following photo will confirm