Supporters Trivia and Anecdotes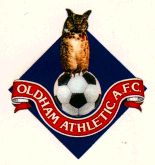 URI GELLERíS INTEREST IN ATHLETIC
December 1998

After much publicity about various attempts to take control over the affairs of Oldham Athletic, I decided to try to find out what transpired with the recent, much publicised attempt of Uri Geller. Rather than use my usual method of mind power for communicating, I decided to e-mail Uri for his views. Imagine my surprise when I received a letter of reply addressed to the Latics Supporters Club in Canada, complete with an autographed photo.
In his letter, Uri went into great depth about how his techniques have helped him and thousands of people around the world. Uri has also written a new novel called ďELLAĒ, which he claims will move you beyond your expectations and imaginations. Another claimed way of seizing control of your life and imposing your dreams on the world is ďURIíS LITTLE BOOK OF MINDPOWERĒ. Unfortunately, it didnít help by allowing him to seize control of Oldham Athletic AFC and impose the dreams of thousands of Latics followers.
Although unable to enter into specifics about the Oldham deal Uri does confide that he is still searching for the Ďright clubí but emphasises that when it does come along it has to come from the heart. If you are interested in reading more about Uriís paranormal powers etc. visit Uriís website, or if you are interested in his books they can be found at Amazon. Alternatively, if you wish to e-mail me at latics@webservicesbc.com I will send you the phone numbers of other sources of obtaining his books and 'Mind Power Kit'. No, Iím not on commission! Iím just repaying a favour as he was gratuitous enough to answer my questions about his interest with the club.
In his conclusion Uri asks us to Stay Positive and Optimistic but itís a hard life for all Oldham Athletic supporters. We have seen our side slide from being in arguably the most prestigious and competitive football league in the world, to a relegation spot and heading for the third division. The third division is one step up from non-league football with automatic relegation for the bottom club. Letís hope that a saviour does come along soon before itís too late.
Thanks for your time Uri.
The Chairman
---
Back to Trivia

Submit a story: