Supporters Trivia and Anecdotes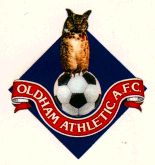 TETS MEETS ANDY RITCHIE

After a home game some seasons ago the 'fearsome four' decided, at the suggestion of Tets and after a skinfull, to try to gain access to the players lounge. Although a daunting task, Tets reassured us that it could be achieved. His training as leader of the Butlins escape committee was finally bearing fruit. After a quick flash of my Amalgamated Society of Woodworkers union card and some cock and bull story we managed to bypass the commissionaire, who was off guard thinking about tactics for his Monday-Friday job as a bouncer at Mothercare.

After about three glasses of 'refreshment' (they don't drink pints in there) and constant ear-ache from Tets about his hero, Andy Ritchie, who should walk into the room but the man himself. "Andy Ritchie just came in" exclaimed a delirious, knee knocking Tets. "Do you want to meet him," said I. "No! You can't....." said he "....can you?"

"Andy" I shouted across the crowded room, "come and let me introduce you to my friend, Tets". To Tets' amazement he strode over and I casually introduced them as if I had known Andy for years. That's the kind of bloke he is. After about ten minutes of grovelling I eventually managed to prise their hands apart. In Tets' eyes I became a hero that day.

So, if you are ever in Tets' pub ask him for a free pint from the man who introduced him to Andy Ritchie. And you know folks, this story is true...I know....I was that supporter......

Submitted by The Chairman before the "Prodigal Son" returned. Please e-mail similar incidents.
---
Back to Trivia

Submit a story: