Where Are They Now? (K-Z)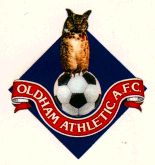 Player Profile
Name
Played from.............to...............
Claim to fame
Most memorable moment/incident
Where are they now?
---
Everyone has favourite players! We are looking for statistics on any past Oldham players, from any era. The categories are self explanatory. E-mail your nominations and we will try to build a complete dossier of past players. It is always interesting to find out who is selling cars, double-glazing etc. You never know when you might need some! We need information from past players who have now retired from playing. Some players (and ex-managers of course) we would love to hear about are included in the first Latics song on the 'Clean Latics Song Sheet'. In particular we would like to hear about/from the following: John Mc.Cue, John Bollands, Brian Jarvis, Sandy Wann, John Bazley, Brian Birch, George Greenhall, Bob Rackley and George Kinnell. If you know the whereabouts of any of the aforementioned or any other Latics players from the same era please let us know.
---

Ryszard Kowenicki (1979-81) was Athletic's first overseas signing and will always be remembered for his spectacular throw-ins. His technique left him lying face down on the field with his toes still behind the touchline! An experience never seen since. It was reported by the Oldham Chronicle that Ryszard died in the 1990's but it was later found out that he is alive and well and living in Denmark! Follow this link

Frank Large (1965-66) was an enthusiastic goalscorer for the Latics. The much travelled player scored 18 goals in 34 matches and his transfer fee of £ 7,500 was almost doubled when he eventually moved on to Northampton. When Frank retired from the game he and his wife, Aileen, were the owners of a bed and breakfast establishment in Co.Mayo, Republic of Ireland. Big Frank passed away in August 2003, aged 63.
John Liddell (1960-62) moved to Oldham following a transfer from St. Johnstone for an 'undisclosed' four figure fee. He scored 36 goals and helped the Saints to promotion but moved so that he could become a full time player instead of part time. He used to tell of the time they played Burnley at the opening game with floodlights when he scored a goal in the 3-3 draw. What nobody knows is that the ball went in off his hand. He always had a good laugh at that. After leaving Oldham he went on to play with Worcester and Mossley. He then moved back to Scotland and played for Sunday league teams before finally giving up the game. After that he became a lorry driver working for practically the same company for around 30 -35 years until he retired in 1998 but sadly he died of a heart attack 13 weeks later just walking to the paper shop. He used to keep in touch with John Colquhoun, John Hardie and Jimmy Rollo. - Biography by John's son.

Bert Lister (1960-65) was one of the best goalscorers ever to put on an Oldham shirt. As a centre-forward he would have gone through a brick wall to score with one of his brilliant diving headers. In 1963 he almost broke the all time record for goals in a season and his six goals against Southport on Boxing Day 1962 will always be remembered. Bert later played for Rochdale and finished his playing career at Stockport County. After football Bert became a part-time taxi driver in Blackpool but sadly died in July 2007, at the age of 67, after suffering a heart attack.

Andy Lochhead (1973-79) who once devastated the Latics with an illustrious performance at Boundary Park for Aston Villa, and then won a third division championship medal with them in 1974 is now Project Director for New Earth Water Services.

Billy McGlen (1953-56) was a player with great experience, and was renown as a utility player who always gave 100%. His contribution was instrumental in Athletic winning the Third Division North title. He went on to train at Lincoln City and was player coach/manager of Skegness Town in 1967. In his career for Oldham he used to catch the bus from outside the Smutt Inn on match days. Billy passed away in 1999.

Mick McGuire (1985-87) was an experienced midfielder when he helped to guide Oldham out of the relegation area. Illness and injury forced him to retire in his second campaign with the Latics. He now has a full-time job with the PFA.

Peter McKennan (1951-54) was a powerful forward and an inspirational leader for Athletic. He won a Third Division N. championship medal with the club in 1953 but unfortunately, he passed away.
Ian McMahon (1980-1984) made his debut against Burnley on 12th. April 83. He only made two appearances for Oldham before being released on a free transfer to Rochdale who were then managed by Vic Halom, another former Oldham player. He was generally a first teamer at Rochdale and made 91 appearances (8 goals) before injury ended his career. He is now the Chief Executive at Doncaster Rovers.
Paul Moulden (1989-93) signed from AFC Bournemouth for £225,000, after starting his career with Manchester City, and had the canny nack of hitting the buttocks of every defender whenever he passed or shot. His greatest claim to fame is scoring nearly 300 goals in one season for a Bolton youth club - it is apparently in the Guinness Book of Records. He also featured in the team that beat Sheffield Wednesday 3-2 to clinch the Second Division title but only appeared four times in the 92-93 season. Paul was released to Bolton and when he retired he used to play in an Oldham District 5 a-side league. Now he owns a chip shop in Glossop

Dick Mulvaney (1971-74) was snapped up on a free transfer from Blackburn after being in dispute. He was club captain of the 73-74 Third Division Championship side. One of the most consitant centre backs of that era, in his two years at the club he also helped the Latics establish themselves in the Second Division. Dick then moved on to Rochdale and when he retired he went back home to Sunderland to work in the dockyards. Now retired, he still lives in Sunderland.
Jimmy Munro (1950-53) was a popular player at Boundary Park who was renown for being a quick and tricky player. He won a Third Division N. championship medal with the club in 1953 and made a total of 346 appearances with the four clubs which he represented. He has now passed away.

Billy Ormond (1949-54) played on the wing for Athletic after his demob from the services and won a Third Division N. championship medal with the club in 1953. Billy has now passed away.

Roger Palmer (1980-94) became the Latics all time record goalscorer before his retirement from the game. A great favourite of the fans who endeared the now famous chant of "Oooooohhhhhh!!! Roger Palmer". A great opportunist who will always be remembered fondly as he helped the Latics return to the First Division after their long absence. Roger disappeared for many years after he finished playing and rumours abounded that he was the proprietor of a fish & chip shop in Bacup but he is now living on the Racecourse Estate in Sale. He always was famous for his chips though!

Peter Phoenix (1958-62) was a versatile player who was the Latics leading scorer in 58-59 with 13 goals. Not bad for a wing-half! Recent information suggests that Peter has passed away. Any confirmation would be appreciated.

John Platt (1971-81) was a brave goalkeeper who had to retire from the game due to injury. He went on to be in charge of the Latics "Football in the Community" scheme.

Andy Ritchie (1987-95 & 1997-2001) affectionately known as 'Stitch' was a firm fan's favourite both as a player and later as a manager. He joined the Latics from Leeds in August 1987 after serving his apprenticeship at Manchester Utd. and then spending three years at Brighton. Although he missed eight matches in his first season he still managed to score 19 league goals and amassed 105 goals in 250 games for the Latics. Ritchie left the club in 1995 to join Scarborough but returned to Boundary Park a couple of years later and he took on the manager's position in 1998 before leaving the club in 2001. Andy went on to be Youth Academy Director at Leeds United and then manager at Barnsley. He is currently working as a TV pundit.
Andy Rhodes (1988-90) was a spectacular goalie. After initial problems with the pace of the artificial pitch he adapted well and his first 11 games resulted in 7 wins, 3 draws and one defeat. Andy went on to be the goalkeeping coach at Boundary Park.

Jimmy Rollo (1960-63) was born less than 50 miles from John O'Groats and was a baker and confectioner by trade. His career at Boundary Park was hampered by the fierce competition with John Hardie and Johnny Bollands. Jimmy was a competant keeper who's strengths were dealing with high shots and crosses. He spent the last of his three years mainly in the reserves and only made 10 appearances in the promotion winning side. He then moved to Southport, Bradford and Scarborough. Jimmy lost his right leg in an accident in 1989 but he made a remarkable recovery and moved back to live in his homeland in Scotland. When he regained his strength he took to travelling the world but unfortunalely his health was failing and he suffered a minor stroke in the summer of 2004 which resulted in him losing his eyesight. This was obviously quite a lot to come to terms with when you have been a sportsman, however his spirit is strong and he now keeps his two grand-daughters mesmerised with his stories. Biography by Jimmy's daughter. Jimmy has subsequently passed away.

Jack Rowley (1960-63 & 1968-69) was appointed manager of Oldham on August 2nd. 1960 and the rejuvination of the Latics began. He brought in players of the calibre of Colquhoun, Williams, Greaves, Scott and Johnston. Remembered as one of the best forwards ever for Manchester United, Jack guided the Latics to promotion in 1962-63, which included the 11-0 hammering of Southport on Boxing Day when Bert Lister scored six goals. A crowd of 41,733 also saw the Latics play Liverpool in the ever to be remembered F.A. cup game in the 4th. Round in January. Jack died at the age of 79 in 1998.

Joe Royle (1982-94) was surely Oldham's most successful manager, taking them to the F.A. Cup semi-finals and to their first ever appearance at Wembley in the L.C. final. When Joe resigned as Everton manager, he accepted the same post at Manchester City but was fired at the end of the 2000-01 season after City got relegated. He was also commentating on football matches for Channel Five and did reports on the opposition for England manager Glen Hoddle. Joe then went to manage Ipswich Town until he was fired but he now coaches the under 21s team at Everton.
Matthew Rush (1997-98) was an experienced, natural wide-player who was forced to retire through injury. His loss was a huge blow to Athletic as he looked to have a bright future in the game. Since his retirement, Matthew is concentrating on taking up a career as a Physical Education teacher.
George Sievwright (1963-64) was signed for £500 from Dundee United and was a strong and forceful Scot who made the left-half spot his own in his short stay at Athletic. He made 37 appearances and scored 4 goals before moving on to Tranmere Rovers. He never made the first team at Tranmere and move on to Rochdale before ending his playing career at Macclesfield. He worked as a Manager with an electrical company before retiring and coached football for school kids. He now lives in Marsden.
Graeme Sharp (1991-97) joined Athletic as a pedigree striker and was made manager when Joe Royle left for Everton during the 1994-95 season. When he left the hot seat in 1997 he had a short spell in charge at Bangor City. Sharp now works for the local press and radio in Liverpool and enjoys his media work so much that he has no ambitions of returning to the competitive world of football management.

David Shaw (1969-73 & 1975-78) was a firm favourite with the Boundary Park faithful. He had tremendous pace and had a knack for scoring spectacular and important goals. He forged a magnificent partnership with Jim Fryatt and help the Latics to promotion as well as winning the Ford Sporting League outright in the 1970-71 season. He was last heard of as a licensee at a pub on Rochdale Road, Newhey.

Nick Sinclair (1978-84) had a good turn of speed and was best remembered as an overlapping full back. His autobiography for the LSC: "I made 76 appearances which was restricted due to many injuries. Most memorable and important games included playing at Newcastle to a capacity crowd against Keegan and Waddle, and also playing against Manchester City again to a capacity crowd at Maine road in a local derby. Whilst at Oldham I had a spell at Wolves for three months but this was also interrupted by injury. I left Oldham in 1984 and joined Tranmere and played at Prenton Park for two seasons under Brian Hamilton and Frank Worthington. I unfortunately finished my playing days in 1986 due to a Pelvic injury related to a Knee ligament injury experienced years before. Since my footballing days I have worked for several companies including The BBC in Manchester where I was involved in programme research. I joined EDS (a computer services company, Stockport) in 1998".

Bill Spurdle (1948-50 & 1957-63) was signed second time around from Port Vale for a fee of £1,000 in 1957. He came to Oldham as an evacuee from Guernsey during the war and appeared as a cup finalist for Manchester City in 1955. Most of his apperances were from the right-half position and he was remembered for his long stride which game him his speed. When he retired from the game he set up a family business with his wife in Oldham but later moved back to Guernsey with his family to start a tomato growing business. He became involved with football once again and worked with the Island team. Bill was 80 in January 2006 and remained in good health until he passed away suddenly. He remembers fondly his association with the late Bobby Johnston, his favourite playing team-mate, and they became close personal friends spending a lot of time together at Bill's home.

Simon Stainrod (1979-80) was a classy player with lots of individual flair. He was well liked by the Oldham fans and Athletic made a £ 190,000 profit when they sold him on to QPR. Simon recently departing from the hot seat at Ayr United and is now believed to be a player's agent.
Peter Taylor (1983) only made four appearances on loan for Athletic near the end of his career. A former England international, he was the first Third Division player for 15 years to be capped when he made his full debut. His debut for Athletic at Rotherham coincided with their first win in eight games in Joe Royle's first season as manager. Peter went on to manage England as caretaker manager but for one match only and was the England under 21 team coach. He was inducted into the FA Hall of Fame in 2002 and went on to manage Southend, Gillingham, Leicester, Brighton and Hull City at club level. He went on to manage Crystal Palace.
Steve Taylor (1977-79) was a much travelled striker and played for 11 different clubs winning the Third Division Championship with Burnley in 1981-82. He knew where the net was and scored in his first seven games for Oldham. He was the last striker to score 20 goals in a season for Athletic until Chris Porter did it in the 2006-07 season. Steve is now a gym manager in the prison service.
David Teece (1956-59) joined Athletic from Hull having previously been at Hyde United and he made 91 appearances in goal for Athletic after he finally forced his way into the team. He was a qualified FA coach who also played for Buxton and Chadderton. He coached AVRO in the Manchester League. When he retired from football he became a draughtsman and fitter at British Aerospace. David died in 2007.

Carl Valentine (1976-80) started as a 17 year old with the Latics, and the exciting young winger caught the eye of Vancouver Whitecaps' Tony Waiters, who signed him to help spark the club to a thrilling defeat of the New York Cosmos on their way to the club's first NASL championship. After a successful stint back in England with the West Brom Baggies, Carl returned to Canada and played for his new country (he became a citizen in 1983) in 1986, setting up the two Canadian goals on corner kicks to defeat Honduras 2-1 and move Canada for the first time ever into the finals of the World Cup. He was a solid performer for the Vancouver 86ers, scoring the first ever goal for the club, and sinking the first goal in the 1988 final during their powerhouse years as reigning CSL champions from 1988 to 1992, when he retired as a full time player. Carl continued as the Vancouver 86ers' player manager, retiring in 1999. Since then he has been coaching youth soccer in North Vancouver, helping to bring a new approach to youth soccer on the North Shore that combines professional coaching with a holistic approach to young athletes. Carl Valentine was elected to the Canadian Soccer League's Player Hall of Fame in 2003.

Tommy Walker (1954-59) joined the Latics from Newcastle United for £2,500 (a large fee at the time) in a bid to keep them in the old second division. The right winger had joined the Magpies at 17 and won two FA Cup winner's medals with them. Tommy was also a Methodist lay preacher for many years and settled in Chadderton with his wife Lily and young son Tom. When he retired from the game, Tommy ran a successful newsagents in Middleton for almost 30 years. Tommy died in 2005 at the age of 81.
Colin Whitaker (1962-64) scored 29 goals in 72 league appearances for Latics. He was a true 'wizard of the wing' who scored over one hundred goals, including eight hat-tricks. A wonderful trapper of the ball, Colin played for Sheffield Wednesday, Shrewsbury Town, QPR and Rochdale, before moving to Oldham. After leaving the Latics he played at Barrow and became player-manager at Stalybridge Celtic. A strange tale from Colin, "I was playing at Oldham in 1964 when I damaged my cartilage and I ended up going to Old Trafford for treatment where I got to know Sir Matt Busby. I got up off a treatment table and started to hobble on one leg, so Sir Matt told me to take the crutches he'd used when he left hospital in Munich. I used them for about a month before putting them in my garage. It never entered my head how important they might be until the 40th. anniversary of the Munich crash, when I offered the crutches to United for a display in the club museum." Now retired, Colin spends six months of the year on Spain's Costa Del Sol.

Alan Williams (1961-65) was fearless and resolute and was remembered as Athletic's best centre-half of the 60's. He was an ever present in the promotion year of 62-63 and was team captain. Williams made over 550 league appearances in his 18 years in the game and was a great servant to all his clubs. Alan later worked as a caretaker in a complex of flats in Bristol and also helped out behind his son's bar when needed (see below).

Gary Williams (1985-91) son of Alan (see above) was a cultured midfielder who made a century of league appearances. He was an unused substitute in the 1990 Littlewoods Cup final. Gary later had spells with Hearts, Bristol Rovers and Swansea and ended his career in Hong Kong. He later ran a pub and a shop in Bristol city centre but has sinced moved to live in Spain.
Ray Wilson (1969-70) was a member of Englands world cup winning team of 1966 and was remembered as one of the best full backs of his time. When he signed for Athletic he was immediately made team captain but injury eventually meant that he would lose his place to Maurice Whittle. He was granted a free transfer to Bradford City but retired the same season. Ray is now an undertaker!

Rodger Wylde (1980-83) was signed to replace Vic Halom as Athletic's main striker and he didn't let the team down as he finished leading goalscorer in each of his three seasons at Boundary Park. Good on the floor as well as in the air, Rodger had a knack of breaking through even the most tight of defences. When he qualified as a physiotherapist around 1990 he opened his own treatment centre/gymnasium near Sheffield. He is now the physiotherapist for Stockport County.

Alan Young (1974-79) will be remembered as a gutsy, detemined and sometimes classy striker in his time at Boundary Park. The hat-trick he scored against Leicester City in the FA Cup in 1979 tempted the Foxes to buy him. He went on to gain a Second Division Championship medal with Leicester and was an ever present in their promotion season. He went on to be the Youth Development Officer at Chesterfield FC.
---
Please submit any mistakes or updates as we wish to provide up-to-date information about past players/managers.
---
Where Are They Now? (A-J)